Tour of Mont Blanc 7 days bivouac
Tour of Mont Blanc noth 7 days with guide - sleeping in tent + Rafting
The 3 countries in 7 days bivouac style without carrying your bag!
The mountain hiking holiday sleeping under tent is particularly suitable for purists and students. A little less comfort but that is the price to pay to have your head in the stars and enjoy the light of fire. At night, its light, crackling, the smell of ash and heat captivate us. But you will not break your back to carry your camping gear, the mule will do …
Tent size of 3 people for 2 (those measuring more than 1.80 can normally sleep with their belongings in the tent. The tents 2 places do not allow it, even if you're small!).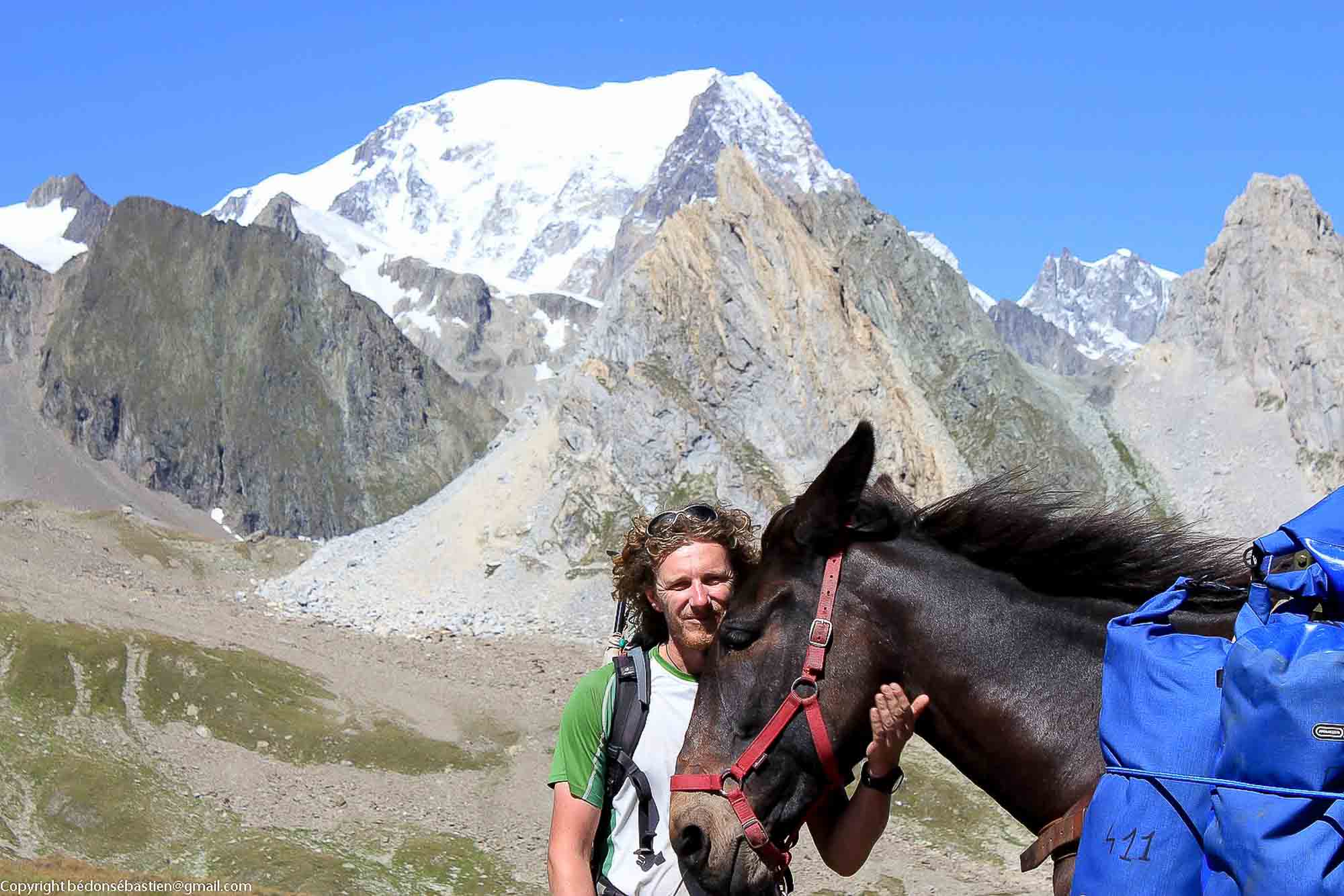 Courmayeur(it) - Contamines (fr)
Highlights
No car transfer
3 countries in 7 days!

3 countries in 7 days, sleeping under the tent + rafting !
Rafting (optional) and hiking without a bag in a bivouac style with mules. € 495/7 days walking with full board (raft included) with guide-mule.

Access to the bags at any time of day thanks to the mule (very convenient to change after a good rain!).


This route covers a distance normal for 7 days. No endless steps during the trek, no bus transfers in Italy (Val Veni). Stay nature among the stars near the wood fire …

Dinners under collective tent if

rain.
3 people tent size for 2 (people more measuring 1.80 will normally sleep with their belongings in the tent. The tents 2 places do not allow it, even if you're small!).
Your bags are carried by mule managed by a mule-graduate Mountaineering Guide. A waterproof bag is lent you to put your belongings (7 kg per person on the mule). You carry on your shoulders that you need for the day (picnic included).
We provide collective stewardship of your mountain hiking stay in camp which is seven days of moderate hiking. It is done on good paths (technically easy) and includes all meals (dinners to prepare sets), lending a groundsheet, tent 3 tickets for 2 (to fit your bags ) to install and remove yourself (in 2 seconds … Super easy!), the shower, the supervision of a professional graduate mountaineering and transport your business to a maximum of 7kg.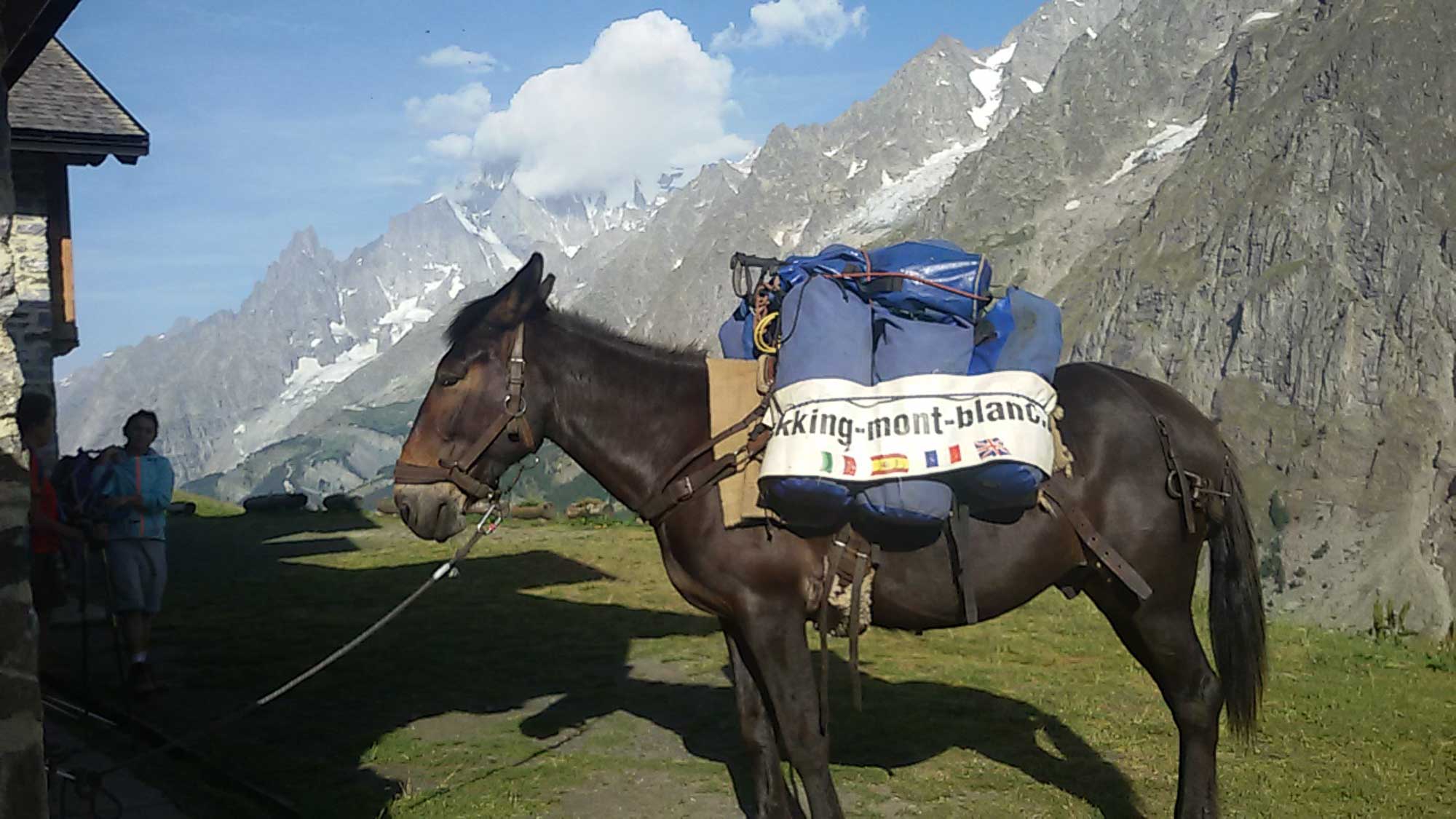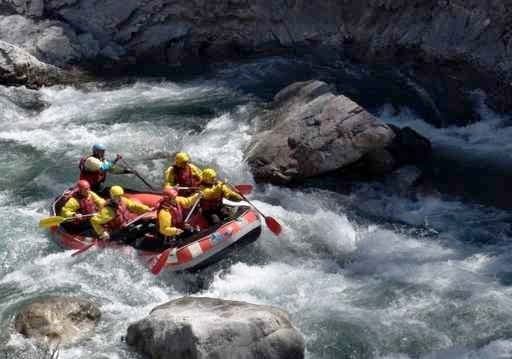 Arpnouva – La Peule


770m

470m

6h      

9km
La Peule – Champex


400m

1000m

6h      

21km
Champex – Trient


615m

750m

6h      

18km
Trient – Argentière


800m

1120m

6h      

9km
Argentière – Bionassay


700m

350m

6h      

22km*
*13km if rafting
Bionassay – Le Truc


480m

460m

6h      

12km
Le Truc – Les Contamines


0m

710m

6h      

5km

Courmayeur
(Courmayeur, Vallée d'Aoste, Italie)

Arnuva (alt m)
(45.79075758796201, 6.9312576041556895)

La Peule (alt : 2071m)
(45.7371378593484, 6.779530404601246)

Champex le lac (alt m)
(45.75736108396616, 6.711703061882872)

Trient (alt m)
(45.89294536517077, 6.72157573630102)

Argentière (alt m)
(45.9223959853308,6.829720258538146)

Bionassay (alt )
(45.95906111405481, 6.874524587765336)

Le Truc (alt m)
(45.99368754216431, 6.9332749815657735)

Les Contamines
(Les Contamines-Montjoie, France)
Practical informations for this trek
Accomodation the day before departure
Accomodation - Meals
Bivouac stay. Camping tent size 3 people for 2 hikers  to get your bags inside. Tents 2 places do not allow. Tents 3 places allow people taller than 1.8m to sleep well!
Take a sealed Tupperware (750 ml) a bowl and cutlery needed for various salads of the picnic, dinner and breakfast and a good sleeping bag.
Diners under collective tent.
Included / Not included
Included : tents and matress, food, guide and bag transport. Rafting (not compulsory)
Not Included : travel to meeting point, drinks, snacks,  and cancellation insurance
Coming back from Les Contamines
General practical informations
Suggested equipement
A qualified guide will take you throughout the trek. A mule carrying your stuff up to 7 kg. To prepare your bag : check the luggage and equipment page and FAQ
Cancellation insurance
Buying an insurance for a hiking holiday in the Alps costs 4.5% of the total price per person. We must therefore add that amount to the price of each stay bought. For more information read the page cancellation insurance
Before coming
Read: "The life of the mountain" Bernard Fischesser Ed Abrams. "Know read the stars" of the Maritimes H. A. Rey editions and overseas territories. "The social life of plants" by Jean-Marie Pelt www.amazon.fr/vie-sociale-plantes-Jean-Marie-Pelt/dp/2213013713
Maps: IGN Top 25: 3630 and 3531 OT Chamonix and St Gervais les Bains
To do: since you are acclimatized, climb to the top! The ascent of Mont Blanc
See: Cable car to the Aiguille du Midi. The cave of the Mer de Glace.
How to book ?
To book you must:
Contact us by phone or email to verify that your dates are a departure planned
Click on a link "book this trek"
Choose your means of payment (check, bank transfer, CB)
Paid 30% deposit or the balance of your stay
Print to complete, sign and return the contract attached in the email confirming your order.
Several payment methods are possible: 1) By check: to make the order of TREK MONT BLANC and send to TREK MONT BLANC 431, Col de Joux Plane route of Hamlet Mévoutier 74340 Samoëns – Haute Savoie – France. Booking your stay will be effective only when 30% of the amount will be credited to the account of TREK MONT BLANC.  2) By bank transfer: Our bank details will be stated in the order confirmation email 4) By credit card: your invoice will be in your account online as payment confirmation of your stay by the bank.
A question?
See our 'frequently ask questions' page
Contact us
Availability, details, suggestions…
Book this trek
Departures every sunday in summer