Tour of Mont Blanc 7 days high route
Tour of Mont Blanc south 7 days with guide sleep in refuge
7 days following the high route in France and Italy!
This trip by hiking the high route of Mont Blanc tour lasts 7 days and goes through the small loop, more alpine. No bus transfer of the week and view of Mont Blanc every day!
Trekking Mont Blanc takes you on easy trails without ladders or handrails for a trip on foot to 7 foot walking days with guide and moderate level. Your belongings are transported by us.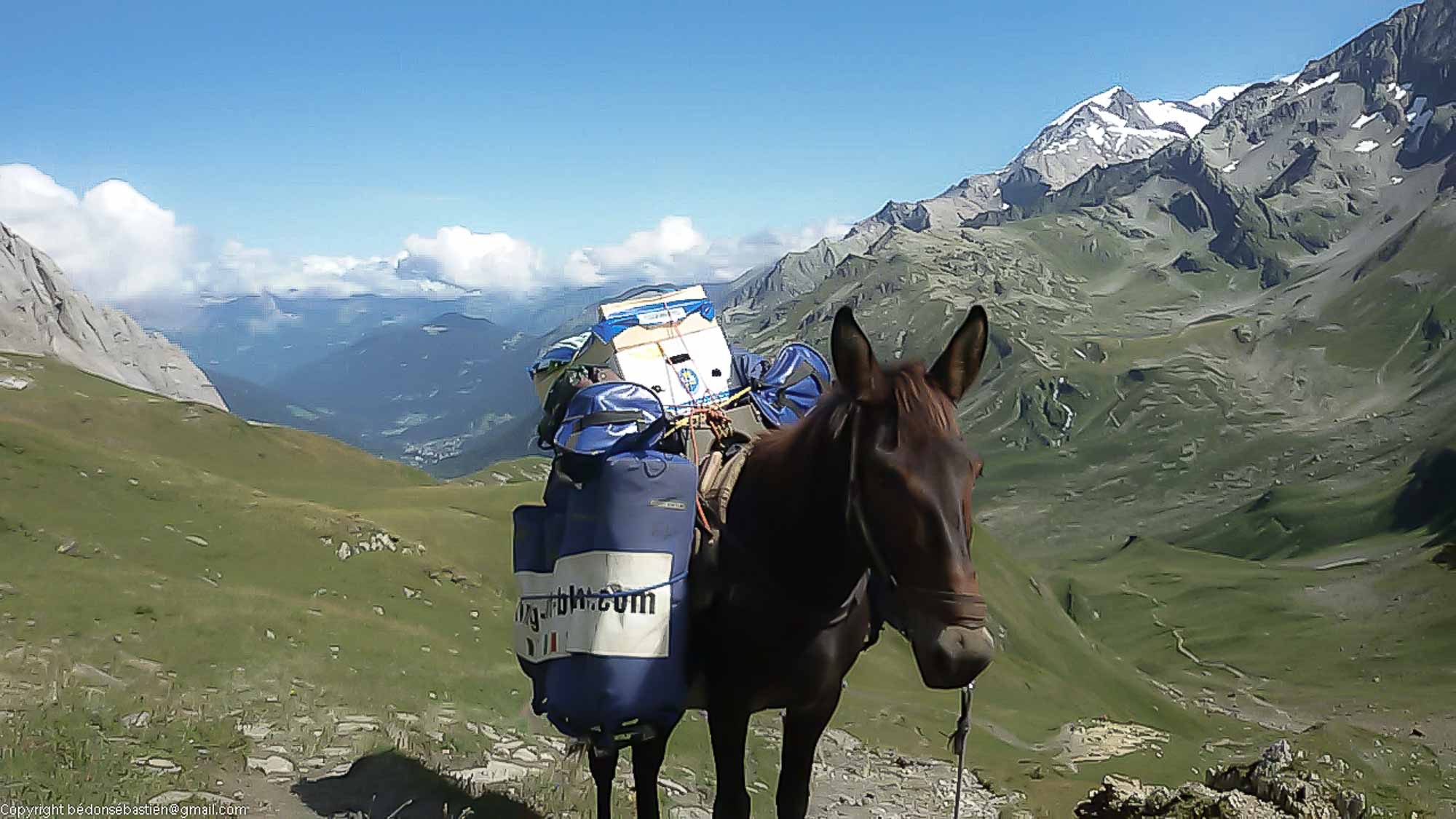 Highlights
No car transfer
Everyday view of Mont-Blanc

A trek your won't forget!
During the week, most agencies will take you by bus in Italy (or also in Switzerland between Champex and La Fouly day 3) to reach Courmayeur or from (day 5) and offer a 7 day circuit with only 3 steps where you see, it's nice up there, the Mont Blanc (cols de Balme, the Seigne and Fours [unless you sleep with Chapieux, and so you will more than 2 days to see the Mont Blanc!]).
Of course, after a while, Mont Blanc seen through the bus window that leads you to Courmayeur, but you will not get it reached on foot …
Our tour covers a distance normal for 7 days. No endless steps or bus transfers in Italy (Val Veni) during the trek. Nature stay!
The path Trekking Mont Blanc will let you see Mont-Blanc every day of the week, without ever having set foot in a bus to Courmayeur.
Leave the bus in the valley takes us through the balconies where the view is permanent and near Mont Blanc. These viewpoints make us join Chamonix to Courmayeur in 7 days hiking. It offers the possibility, next summer, to do the Switzerland side of the Mont Blanc tour. Otherwise, this year, the grand tour of Mont Blanc in full 11 days!
Whether alone, with friends, couple or family, you will be part of a group constituted by our company ONLY  and composed of people do not necessarily know at the beginning of the week, but often inseparable at the end of trek …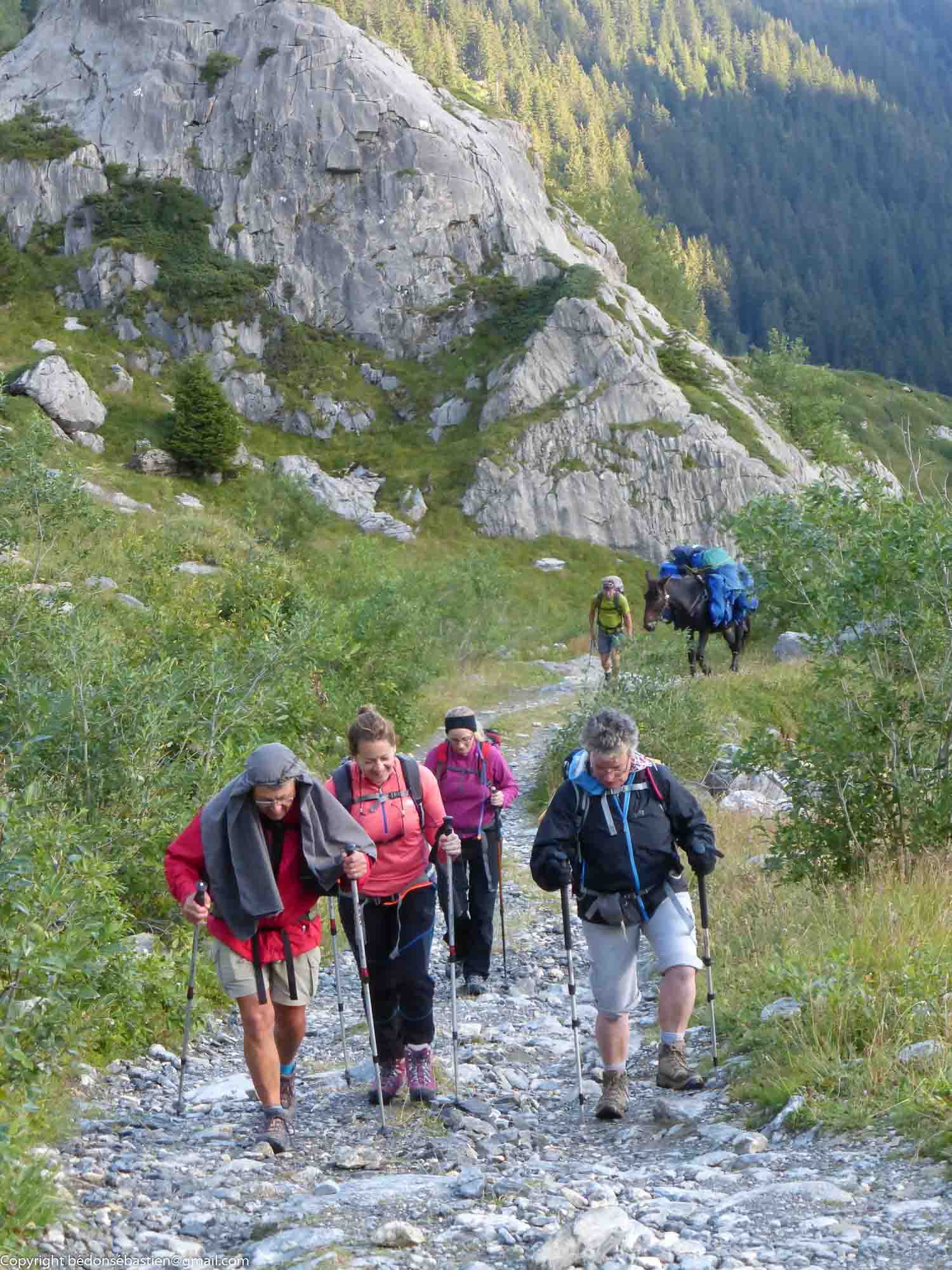 Argentière – La Flégère


1000m

475m

6h      

9km
La Flégère – Bellachat


600m

450m

6h      

9km
Bellachat – Bionassay


700m

1340m

6h      

12,5km
Bionassay – La Balme


700m

480m

6h      

20km
La Balme – Les Mottets


960m

900m

6h      

14-18km*
*selon itinéraire
Les Mottets – Maison Vieille


1110m

1020m

6h      

20km
Maison Vieille – Courmayeur


0m

760m

2h      

5km

Chamonix
(Chamonix-Mont-Blanc, France)

Gite Le Moulin (alt 1350 m)
(45.99368754216431, 6.9332749815657735)

Refuge de la Flégère (alt )
(45.95906111405481, 6.874524587765336)

Refuge de Bellachat (alt 2136 m)
(45.9223959853308,6.829720258538146)

Refuge du Fioux (alt 1350 m)
(45.89294536517077, 6.72157573630102)

Refuge de La Balme (alt 1700 m)
(45.75736108396616, 6.711703061882872)

Refuge des Mottets (alt : 1870m)
(45.7371378593484, 6.779530404601246)

Refuge Maison Vieille (alt 1956m)
(45.79075758796201, 6.9312576041556895)

Courmayeur
(Courmayeur, Vallée d'Aoste, Italie)
Practical information for this trek
General practical informations
Suggested equipement
A qualified guide will take you throughout the trek. A mule carrying your stuff up to 7 kg. To prepare your bag : check the luggage and equipment page and FAQ
Cancellation insurance
Buying an insurance for a hiking holiday in the Alps costs 4.5% of the total price per person. We must therefore add that amount to the price of each stay bought. For more information read the page cancellation insurance
Before coming
Read: "The life of the mountain" Bernard Fischesser Ed Abrams. "Know read the stars" of the Maritimes H. A. Rey editions and overseas territories. "The social life of plants" by Jean-Marie Pelt www.amazon.fr/vie-sociale-plantes-Jean-Marie-Pelt/dp/2213013713
Maps: IGN Top 25: 3630 and 3531 OT Chamonix and St Gervais les Bains
To do: since you are acclimatized, climb to the top! The ascent of Mont Blanc
See: Cable car to the Aiguille du Midi. The cave of the Mer de Glace.
How to book ?
To book you must:
Contact us by phone or email to verify that your dates are a departure planned
Click on a link "book this trek"
Choose your means of payment (check, bank transfer, CB)
Paid 30% deposit or the balance of your stay
Print to complete, sign and return the contract attached in the email confirming your order.
Several payment methods are possible: 1) By check: to make the order of TREK MONT BLANC and send to TREK MONT BLANC 431, Col de Joux Plane route of Hamlet Mévoutier 74340 Samoëns – Haute Savoie – France. Booking your stay will be effective only when 30% of the amount will be credited to the account of TREK MONT BLANC.  2) By bank transfer: Our bank details will be stated in the order confirmation email 4) By credit card: your invoice will be in your account online as payment confirmation of your stay by the bank.
A question?
See our 'frequently ask questions' page
Contact us
Availability, details, suggestions…
Book this trek
Departures every sunday in summer